Stone Cleaning in New York City
Cleaning
When it comes to floors, counters, and other surfaces, nothing matches the beauty of the natural stone. But over time, even with periodic upkeep, stone surfaces can become darkened, dulled, and stained through ongoing foot traffic, dust, and dirt. That's why Statewide Stone Care is your go-to source for professional stone cleaning in New York. Our team of experts utilizes state-of-the-art techniques to clean and restore all types of stone surfaces, returning them to their original luster and restoring elegance to your home or workplace.
No matter what cleaning service you need, whether for water spot treatment, marble care services, or cleaning your granite, limestone, slate, or sandstone surfaces, we have the experience and knowledge to get the job done right.
Types of Stones We Clean
Stone surfaces can differ greatly as far as their look, texture, porous qualities, and more. That means we use different approaches to cleaning different types of stone. Statewide Stone Care has extensive experience cleaning virtually every type of stone surface, including, but not limited to:
Stone Cleaning Techniques We Use
Just as every type of stone is different, the best way to clean each stone's surface can also vary. Our team at Statewide Stone Care will inspect your surfaces and determine what is causing the discoloration and decide on the best stone cleaning method based on the results we want to achieve.
​​Mold & Mildew Remediation
Mold and mildew love to grow on natural stone surfaces and in grout, especially in high-moisture areas– but they don't stand a chance against our team. Left untreated, these fungi can send tiny roots into the porous surfaces, causing damage and stains. By applying a gentle bleaching agent and scrubbing, we'll eliminate the mold and mildew without damaging the stone. If the mold and mildew have already penetrated the stone, we'll perform a restoration treatment on it to get it looking like new again.
Efflorescence Treatment
Efflorescence is a white, powdery substance that's created when water seeps into stone or grout and dissolves salt and minerals, typically in cold and/or moist conditions. As the water evaporates, it leaves behind mineral deposits, which can build up over time and cause unsightly stains. Sometimes, efflorescence can create the illusion that your stone surfaces have faded when in fact they are coated. Thankfully, efflorescence can be removed. Our team will clean the efflorescence from your stone surfaces using tools such as pressurized water, gentle detergents, and scrubbing. When we're finished, you'll never know the mineral deposits were there.
Deep Cleaning of Stone Surfaces
Over time, dirt, dust, and other debris can become trapped in the pores of stone surfaces, causing them to look dull and dirty. To return your stone to its original glory, we'll perform a deep clean using high-quality cleaners and scrubbers. For particularly tough stains, we may use a poultice– a powder that's mixed with water to form a paste–  which is then applied to the stain. The poultice will absorb the stain, and once it dries, we'll simply brush it away.
Power Washing
For outdoor stone surfaces that have become dulled or stained from dirt, pollen, and other debris, power washing is often the best solution. Power washing uses high-pressure water to blast away the surface dirt, leaving your stone looking clean and new again. Keep in mind, however, that power washing can also damage stone surfaces if not done correctly, which is why it's always best to leave it to the professionals. We have the experience and knowledge to power wash your stone surfaces without causing any damage.
Commercial vs Residential Stone Cleaning Services
While the stone cleaning methods we use are essentially the same for both commercial and residential properties, there are some key differences between the two services. For instance, we understand that businesses can't afford to have their operations disrupted for any length of time, which is why we work quickly and efficiently to get the job done with as little inconvenience as possible. We also have the experience and resources to handle large-scale projects, such as office buildings, retail stores, and restaurants.
When it comes to residential stone cleaning, we take a different approach. We understand that your home is your sanctuary, which is why we let you know our recommendations for stone cleaning treatments and make sure you understand the process. We also work around your schedule so that we can complete the job at a time that's convenient for you.
Speak with a New York City Stone Cleaning Professional Today
For high-quality stone cleaning in New York, Statewide Stone Care has the expertise and resources to meet and exceed your expectations. To speak with a stone cleaning professional, contact us today to schedule a free, no-obligation consultation.
In addition to servicing New York City, our stone care professionals provide our stone cleaning services throughout New Jersey and Connecticut.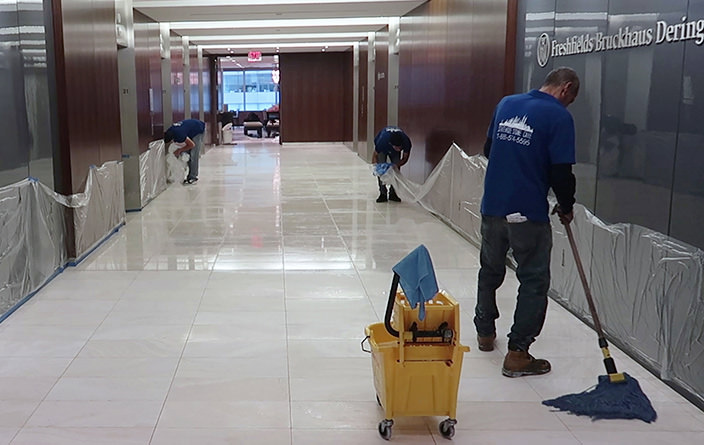 Contact Us
Stones
We also offer many other Cleaning services