Stone Maintenance in New York City
Maintenance
The look of natural stone adds beauty and elegance to any space, whether it's a home, office building, restaurant, or other business. Regularly scheduled professional stone care and maintenance is the key to preserving that natural beauty for years to come. That's why Statewide Stone Care offers reliable professional stone maintenance in New York and New Jersey. We have many years of experience in the industry, and our team of experts is qualified to handle any stone maintenance needs you may have.
We understand that each situation requires a different level of care, and we will work with you to develop a customized stone care plan that is tailored to your specific needs. We offer a wide range of stone maintenance services, including cleaning, polishing, sealing, and more. We also offer restoration services for damaged or neglected stone surfaces. Whether you're scheduling a single maintenance visit or want to take advantage of one of our affordable maintenance contracts, Statewide Stone Care is here to make sure your natural stone surfaces look clean and shiny year-round, even in the heaviest of foot traffic.
Why Consider Regular Stone Maintenance Services
No matter how well you care for your stone surfaces, they can become dull over time due to sand, dirt, and grit brought in on shoes or through basic everyday use. You can maintain these surfaces yourself to some extent through regular dust mopping and using warm water and water-based neutral cleaners, but you may or may not have the time to do these cleanings as often as you like. This is especially true of offices and larger buildings that see lots of traffic.
Our stone maintenance services solve this problem for you with regularly scheduled visits from a team of trusted professionals who inspect your stone surfaces and perform cleaning, polishing, and restoration services as needed. Regular professional stone maintenance offers many benefits, including:
Maintaining your stone's beautiful appearance. Whether you're entertaining at home or seeing hundreds of customers a day in your business, keeping your surfaces looking their best always makes a good impression.
Protection from stains and other damage. Regular maintenance includes applying protectants like impregnating sealers to help your stone surfaces hold up against wear and tear. It also allows our experts to identify and repair small areas of damage before they turn into big, expensive ones.
Ease of cleaning. Regular maintenance keeps deeper stains and discoloration at bay so your everyday cleaning routine becomes less stressful and more effective.
Extended lifespan of stone surfaces. Regular maintenance has been proven to keep stone floors, counters, walls, stairs, and other surfaces looking great for many years to come so you don't have to replace them as often. With proper care and maintenance, for example, a well-built stone floor can last for generations.
How Often Should You Schedule Stone Maintenance Services?
The frequency of your stone maintenance visits depends on a number of factors, including the type of stone you have, how much use or traffic it receives, and whether it's indoors or outdoors. Most stone surfaces benefit from professional cleaning and polishing at least twice a year. More heavily trafficked areas may need to be cleaned and polished every few months, while light-use areas can often go six months or more between visits.
Statewide Stone Care offers a variety of residential and commercial stone maintenance contracts at highly competitive rates. You can opt for maintenance visits to occur semi-annually (twice a year), quarterly (four times a year), or even bi-monthly (six times a year). We'll work with you to assess your use and traffic patterns and determine which maintenance package is best for you.
Our Stone Maintenance Services in New York City
Statewide Stone Care's maintenance packages include a wide range of services to make sure your natural stone surfaces always look their best. These include:
Inspection and assessment – We'll look at your stonework carefully to identify areas of dulling, etching, and damage.
Cleaning – We'll remove all dirt, grit, and other build-ups from your stone surfaces using only gentle, pH-neutral cleaners.
Polishing – We'll buff away any remaining dirt or stains and restore the natural shine to your stone.
Protection – Sealing your stone surfaces will help protect them against future staining and wear and tear.
Repair – We'll fix any small areas of damage that we find so they don't turn into bigger, more expensive problems down the road.
If we determine your stone floors, counters, or other surfaces require more thorough repairs or restoration services, we'll provide you a quote during our visit so you'll know what to expect and how to plan.
Types of Stone We Perform Maintenance On
We can conduct regular maintenance on virtually any type of natural stone surface in both residential and commercial spaces. These include, but are not limited to:
Contact Our Stone Maintenance Experts for a Free Estimate
Protect your natural stone surfaces by giving them proper care and maintenance to last a lifetime. To schedule your free quote for stone maintenance in New York City, contact us today.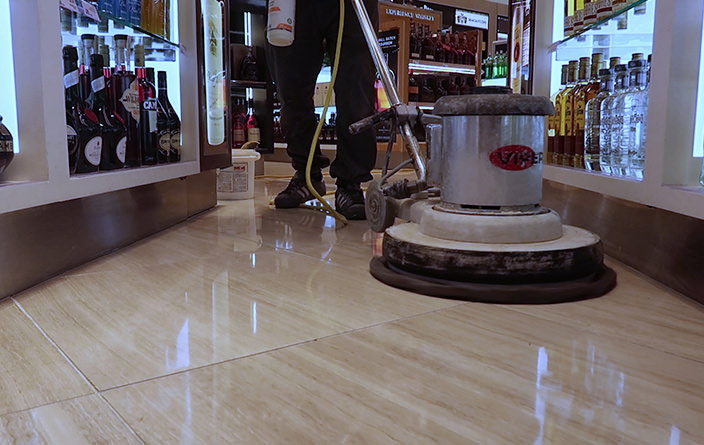 Contact Us
Stones
We also offer many other Maintenance services