Stone Sealing in New York City
Sealing
Stone sealing is a process that helps protect stone surfaces from the elements. Statewide Stone Care offers reliable, high-quality stone sealing in New York for both residential and commercial projects. Using state-of-the-art application techniques and quality stone sealers from trusted industry brands, we can help you keep your natural stone countertops, floors, patios, pool decks, and other stone surfaces looking their best against weather, wear, and foot traffic for years to come.
What are the Benefits of Sealing Stone?
While natural stone is naturally durable and resilient, it can still show signs of age and wear over time. Outdoor stone surfaces are subject to deterioration due to freeze/thaw cycles, rain, ice, UV light from the sun, and other factors. And both indoor and outdoor surfaces can show signs of wear from foot traffic, stains from spills, and more.
Sealing stone surfaces helps extend the life of natural stone and stone tiles by protecting them from damage and wear due to these issues. The sealer penetrates the stone and creates a barrier on the surface that helps to repel water and other liquids. It also provides protection against UV damage and fading, as well as reducing wear and tear from constant foot traffic, which effectively keeps the stone looking like new for longer.
In short, sealing stone can:
Prevent staining from spills and everyday use
Protect against damage from weathering, freeze/thaw cycles, and abrasion
Help reduce wear and tear
Enhance the beauty of the stone by bringing out its natural colors and patterns
How Long Does Sealer Last on Stone?
The lifespan of a sealer depends on a number of factors, including the quality of the sealer, the type of stone being sealed, the porosity of the stone, whether the stone is indoors or outdoors, the amount of use/traffic, and more. In general, however, most high-quality stone sealers will last for 1-3 years on outdoor surfaces and 3-5 years on indoor surfaces before needing to be reapplied.
Bear in mind that the more your stone surfaces are subject to the elements and/or the more they are used, the more often they may need to be re-sealed. For example, an outdoor patio subject to extreme temperatures and abundant sunshine will need to be sealed more frequently than an indoor stone floor. Likewise, if you have a stone countertop that sees a lot of use, it will likely need to be sealed more often than a counter that is used only occasionally.
Our New York City Stone Sealing Services
Every type of stone calls for a different type of sealing process. Sealing the stone surface isn't just about applying the sealer, but also about how it's applied. At Statewide, our expert technicians understand the difference between water and solvent-based sealers and which is best depending on the type of stone, how much wear and exposure the stone receives, whether we're treating a natural finish or polished stone, and other factors.
When we come to your home or business for a stone sealing project, we evaluate the surface you're sealing and its condition to determine the type of sealer to use (water-based, solvent-based, penetrating sealer, etc.) and the best application process. We utilize only the most reputable stone sealer brands on the market, such as Miracle Sealant, Laticrete Stonetech, and Akemi. We'll also make sure you know how much time is needed for curing before you can use the surface, as well as how to care for the stone moving forward to keep it looking its best.
Types of Stone We Can Seal
We can provide stone sealing services for virtually all types of natural stone and stone tile, including:
We can seal stone surfaces of any kind, as well, from quartzite or granite countertops to travertine pool decks, from marble showers to slate floors. For any stone surface that needs protecting, Statewide has the expertise to make sure the job is done well.
Get a Free Estimate on Stone Sealing in New York City Today
Sealing your stone surfaces extends their life expectancy while giving you greater peace of mind in using them. For trusted, high-quality stone sealing in New York, New Jersey, and Connecticut, our expert technicians are ready to help. For a free estimate, contact us today for a free consultation.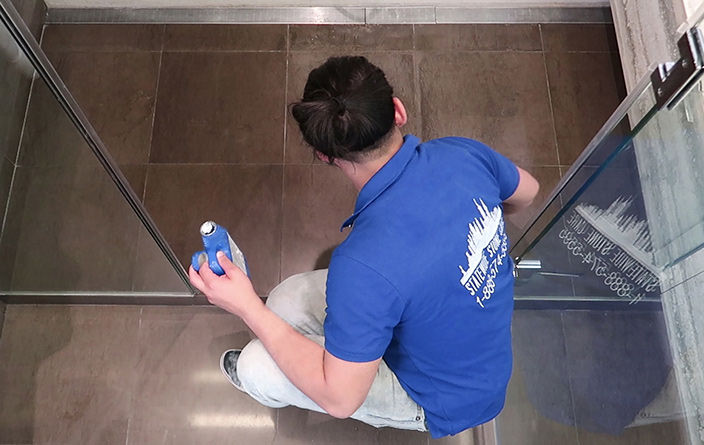 Contact Us
Natural Stone Care in NYC
We also offer many other Sealing services