Stone Refinishing in New York City
Refinishing
If your natural stone surfaces are showing their age, or if you're just ready for a new look, consider stone refinishing by Statewide Stone Care. We have been providing trusted stone refinishing services in New York for many years, and we use state-of-the-art techniques to create the exact finish you're looking for. Whether we're refinishing stone surfaces in your home, office, or commercial building, our aim is to meet and exceed our customer's expectations every time.
Why Change Your Stone Finish?
There are many reasons why you might want to refinish your stone surfaces. Maybe you're moving into a new home with a matte finish on the marble surfaces, and a high-gloss look is more your style. Or perhaps your business is due for a facelift, and a different finish on the stone floor would better accentuate the new decor. Whatever the reason, we can help you achieve the look you desire.
Some of the most popular reasons to refinish stone surfaces include:
Achieving a new look, or storing the stone's original appearance  –  If you're bored with the current finish on your stone surfaces and you're ready for a complete change, refinishing is a great option. Likewise, a new finish on an aging stone surface can make the stone shine like it was freshly installed.
Enhancing the beauty of your natural stone –  Many people choose to refinish their stone surfaces to bring out the inherent beauty of the material. By removing the old finish and starting fresh with a new look, we can help draw out the beauty of travertine, granite, or terrazzo in a whole new way.
Improving durability – In some cases, refinishing stone surfaces can actually improve their durability. For example, if you're concerned about wear and tear in a high-traffic area, we can apply a stronger finish that will help protect the surface.
Our Stone Refinishing Process
At Statewide Stone Care, we understand that every stone surface is unique. That's why we take a custom approach to refinishing, listening carefully to our customer's needs to ensure that we achieve the right finish for them. Here's a brief overview of our process:
1. Initial Consultation
We begin every project with a consultation to assess your needs and discuss the options. We'll help you choose the right finish for your stone surface, and we'll provide a free estimate.
2. Preparation
Once you've decided to move forward with the project, we'll begin preparing the surface. This includes removing all furniture and other items from the area, as well as protecting any areas that will not be refinished.
3. Refinishing
The next step is to refinish the stone surface itself. We use state-of-the-art techniques and equipment, along with an array of diamond grit pads and polishing powders, to achieve a flawless finish. We pay close attention to detail to make sure every inch of the surface is finished evenly.
4. Finishing Touches
Once the refinishing process is complete, we'll finish out with a cleaning and sealing process, put all the furniture back in place, and clean up any remaining debris.
Types of Stone Finishes We Offer
At Statewide Stone Care, we are confident that we can help you achieve the look you're going for, whether it's a high-gloss finish for your marble countertop or a more natural look for your stone floor. Choose from one of the following stone finishes:
Honed Finish
A honed finish is the "matte" look, achieved by using a series of fine grit pads to smooth out the surface of the stone. This type of finish is popular for those who want a more natural look, as it does not reflect light in the same way as a polished finish.
High Honed
A high-honed finish is similar to a honed finish, but with a higher level of shine. This is achieved by using progressively finer grit pads until the desired level of shine is reached. Think of this as a "semi-gloss" look.
Polish
A polished finish is the highest level of shine that can be achieved on a stone surface. This is accomplished by using a series of diamond pads to smooth and shine the surface until it reaches a glass-like finish. A polished finish is popular for those who want their stone surfaces to have a high-end "mirrored" look.
Contact Our New York City Stone Refinishing Experts
Stone refinishing not only helps revitalize your stone surfaces, but by changing the finish, it can feel like you're getting a whole new stone floor, countertop, or patio. Our team of experts can refinish your granite, slate, marble, travertine, or other stone surfaces to give your home or business a much-needed facelift. For quality stone refinishing in New York or throughout the tri-state area, contact us today for a free consultation and quote.
We provide our stone refinishing services throughout much of New Jersey and Connecticut as well.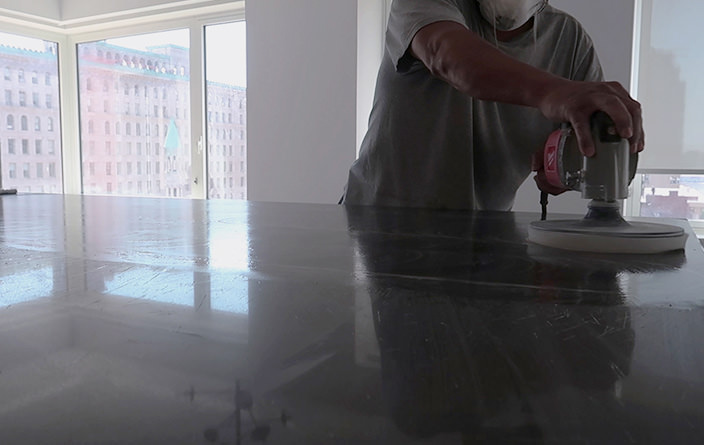 Contact Us
Stones
We also offer many other Refinishing services