Stone Polishing in New York City
Polishing
Are your natural stone floors, countertops, and other stone surfaces looking dull and losing their original sheen? Are you looking to change the look of your stone surfaces to be more glossy, or less glossy? Polishing can give your stone, marble, and granite surfaces the sheen you're looking for. Statewide Stone Care offers professional stone polishing services in New York City to make your surfaces look their best.
Dulling of stone surfaces is a common occurrence caused over time by foot traffic, spills, and other everyday use. No matter how well you care for your stone surfaces, they will eventually lose their luster. Stone polishing with Statewide Stone Care can bring the shine back to your stone surfaces and even change the level of glossiness for a whole new look.
Whether you have marble floors, granite counters, or any other stone surfaces in your home or business, Statewide Stone Care can help. We can even polish outdoor stone surfaces like patios and walkways.
What Is Stone Polishing?
Polishing is the process of creating a smooth and glossy surface on stone by rubbing it with mildly abrasive materials of varying grits. The abrasive material gently wears away the top surface of the stone which has become dull or discolored to reveal a smooth, even, shiny surface beneath. Stone polishing can be done on its own to restore or change the desired level of sheen, or it may be implemented as part of a larger process in a stone restoration project.
When to Hire a Stone Polishing Service
When is it time to hire professional stone polishing in New York City? You should consider calling the stone care professionals in any of the following situations.
Your stone surfaces look dull or lackluster – When everyday cleaning doesn't improve the appearance of your stonework, stone polishing may be the solution to restore the beauty of your surfaces.
You notice inconsistencies in the sheen – Areas of high foot traffic, for example, may cause a dulling or fading along those pathways. Polishing can restore an even sheen across the surface.
You notice minor scratches and etchings in the stone – The polishing process can work out these etchings and bring out the natural beauty in your marble work, granite, and other natural stone surfaces.
You want to change the level of gloss – If your marble floors have a matte finish, for example, a stone polishing service can change the finish to glossy, or vice versa.
Our Stone Polishing Process
Different types of stone have differing levels of hardness and consistency, so our stone polishing process will vary based on the type of surface, the amount of damage we're repairing, and the level of shine you're looking for. (The process for marble polishing, for example, will look different than how we approach polishing a terrazzo floor.)
When you contact Statewide Stone Care, whether for commercial or residential services, we will come to your home or office to assess your needs and develop a plan. Once we have determined the type of stone and the level of gloss you desire, we will begin the stone polishing process using a series of abrasives and polishing compounds. The abrasives will range in grit from very fine to coarse, and we will use different types of machines to apply them to your surfaces. The result will be a smooth, even surface that draws out the beauty of your natural stone.
Types of Polishing Finishes We Offer
Our team of experts can polish your stone surfaces to any level of sheen you desire.
Matte Polish Finish
A matte finish is perfect for those who desire a more natural, unvarnished appearance to their stone surfaces without the high gloss of a more polished look. This type of finish is often used on walls, staircases, and other areas where a lower level of sheen is desired.
Semi-Gloss Polish Finish
A semi-gloss finish is ideal for those who want the natural beauty of their stone to shine through while still providing some protection against staining and wear. This type of finish is often used on floors, countertops, and other areas where a bit more sheen is desired, but not so much as to reveal scratches too easily.
Gloss Polish Finish
A high gloss finish is the shiniest option and will provide the most protection against staining and wear. This type of finish is most popular with hard stone surfaces like marble, and it's often used on floors, countertops, and other areas where a high-polished look is desired. Keep in mind that a high gloss finish will show scratches more easily than a lower sheen.
Contact Our NYC Stone Polishing Experts
If you're interested in giving your stone surfaces a new lease on life, contact Statewide Stone Care today. We specialize in reliable stone polishing throughout New York City as well as stone cleaning, stone restoration, marble care, and other services. To schedule your free quote, contact us today.
We also offer our stone polishing services throughout New Jersey and Connecticut!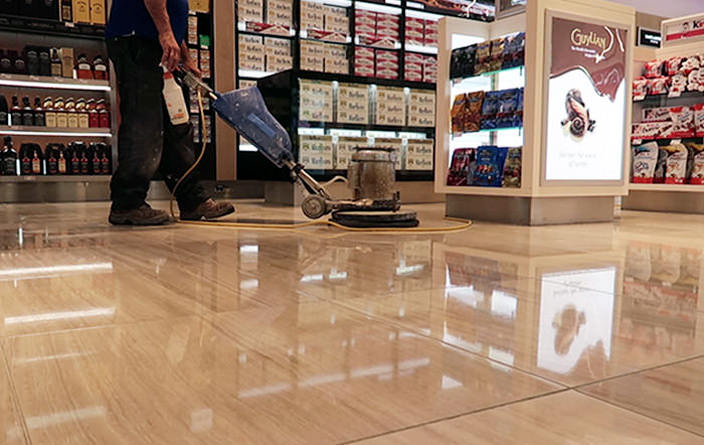 Contact Us
Stones
We also offer many other Polishing services