Granite Cleaning in NYC: Statewide Stone care
What is the best way to clean granite? This is a very common doubt and in this article we will clarify what are the best procedure for cleaning granite.
First of all, do the test:
Make sure your granite countertop is sealed. Unsealed granite will absorb more of the liquid spilled on it, such as oil, juices, coffee and others, evidently causing more stains than sealed countertops.
To check if the granite is sealed, leave a few drops of water on the surface. If after a few minutes, observe if the water seeped into the granite. If this happened, then it's time to re-seal your stone.
If your granite is not sealed, you can always contact State Wide to seal or renew the seal of your granite.
What NOT TO DO:
Never use aggressive cleaning products such as steel sponges, acid products like vinegar, lemon or anything with ammonia or bleach. Frequent use of these chemicals will weaken the sealant over time. Basically, the stronger the cleaner, the faster it will break the sealant.
What TO DO:
Clean spills as soon as you notice them. And use warm water, a mild soap or detergent, and a microfiber cloth towel to clean your granite countertop daily.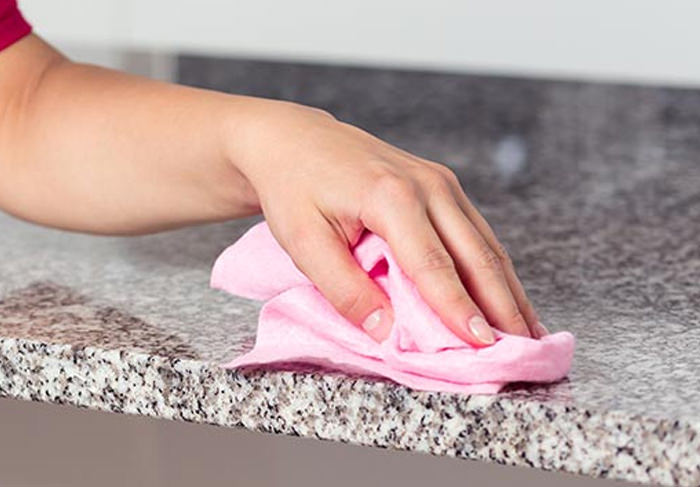 How to disinfect granite:
Hot water and dish soap should be suitable for daily disinfection. However, if a stronger disinfectant is desired, mix a solution of water and isopropyl alcohol. Spread over granite and let stand for 3-5 minutes, then rinse with water and pat dry with a clean microfiber cloth. Avoid bleach or ammonia-based cleaning products.
How to Clean Granite Step by Step
Materials:
Warm water
Neutral soap or detergent
Microfiber cloth
Isopropyl alcohol (optional)
Instructions for cleaning granite:
1 – Clear
Just wipe any spills or crumbs on your countertop.
2 – Prepare
Dip dish cloth with warm soapy water. Fill the sink with warm water and some soap or detergent, then carefully go passing the clean cloth over the granite surface.
3 – Drying
Dry and polish your granite countertop completely with a microfiber cloth.
4 – Disinfect
To periodically disinfect your granite countertops, remove soap residue and restore gloss, mix a solution of water and isopropyl alcohol. Spread over granite, let stand for 3-5 minutes, then rinse with water and dry with a clean cloth.
Now that you know a little more about cleaning granite countertops, you can better conserve your countertop and leave your home with a more beautiful and clean environment. If you wish, here at Statewide stone care we can assist you in anything you need regarding your granite. Call us and speak with one of our professionals.